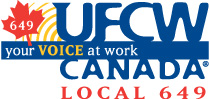 March 10, 2022 – Further to my correspondence dated March 10, 2022, please be advised that your negotiating committee comprised of Tamara Giesbrecht-Remarchuk, Terry Harris, Kevin Materi, Curt Miller, Pablo Godoy (Regional Director, UFCW Canada), Lily Olson (National Representative, UFCW Canada) and myself met with your employer on April 7, 2022.
We're happy to report we've reached a tentative agreement with FCL and are proofreading it. Following the review of the documents we will be scheduling a vote. We will communicate with you as soon as possible regarding dates and meeting location.
No details of this offer will be released until the meeting.
Should you have any questions or concerns, please contact me directly: Cell: 306-292-8083 Email: This email address is being protected from spambots. You need JavaScript enabled to view it.
In Solidarity,
Brant Palko
President, UFCW Local 649