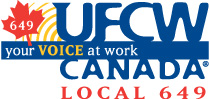 November 10, 2021 - Further to my correspondence dated October 13, 2021, please be advised that your negotiating committee comprised of Tamara Giesbrecht, Kevin Materi, Tyler Flaman, Curt Miller, Terry Harris, Pablo Godoy (Regional Director, UFCW Canada), Lily Olson (National Representative, UFCW Canada) and myself met with your employer on November 8, 2021, as scheduled.
As you may know, your negotiations committee was scheduled for two days of bargaining with FCL. Unfortunately, negotiations were stalled on day 1. This came as a result of your committee making it clear to FCL that they would not be able to proceed in the best interests of our members without seeing the company's monetary package in its entirety.
It is our hope that the employer will come to the table on our next scheduled negotiation date (January 11th) with their entire monetary proposal. We are hopeful to make significant progress over the course of the 4 days scheduled in January.
If you have any questions or concerns, please do not hesitate to contact me directly at 306-292-8083 or at This email address is being protected from spambots. You need JavaScript enabled to view it.
In solidarity,
Brant Palko
President
UFCW Local 649